Past Courses

Essential Practices in Spiritual Companionship
Presence

Compassion

Transcendence
6th, 7th, & 8th

December 2019
This non-residential weekend course with Tew Bunnag is about finding what is needed in spiritual companionship as we look after ourselves and those who are at the end of life. It is open primarily to those who are directly involved in palliative care in the knowledge that precious little time is available for health care professionals to tend to their own needs.
This training weekend will offer simple and easily remembered tools and resources for the spiritual aspects of end of life care. Although this course is offered as a non-residential weekend, accommodation is available for those coming out of county or wishing to benefit from the restorative environment of Roselidden. The objectives are to understand the role and function of spiritual companionship, and to explore different ways of accompanying one another at the end of life.
What tools and resources can we use in spiritual companionship at the end of life?
How can we best serve our spiritual needs in the dying process?
How can we promote a social awareness which helps people to experience a good death?
How can we integrate spiritual wellbeing within our personal, professional and family framework?
There are three areas through which we connect with the world – the physical body, the mind, and the emotions. Keeping a wholesome balance between all three is the ongoing task of looking after ourselves. When one, or more, becomes overworked we must help ourselves to rebalance and maintain an equilibrium without draining our own reserves.
Course times :
Friday evening 6.30 – 9pm : Saturday 9.30/10 am – 7pm : Sunday 9.30/10am – 1pm
Cost : non-residential £140 (This includes all teaching, vegetarian lunches and refreshments).
Venue : Roselidden Farm, Trevenen Bal, Helston, TR13 0PT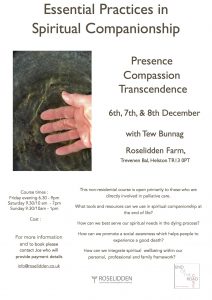 Taking time to care for ourselves

A 4 week course on July 10, 17, 24, 30 2019 3 – 4.30pm
with Jos Hadfield at Roselidden Farm
This course was open to everyone directly or indirectly involved in care, whether for self or another, regardless of professional or personal experience.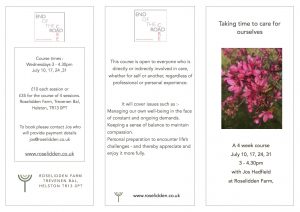 Compassionate Care at the end of Life.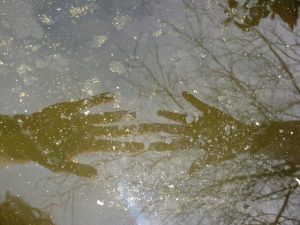 The first course took place in 2017 over the equivalent of 2 weekends.
Further courses are being planned, and details will appear here when finalised.
Course Leaders; Tew Bunnag, Vicente Arraez, Susy Cortés & Jos Hadfield
Location; Roselidden Farm, Trevenen Bal, Helston TR13 0PT
Objectives.
To familiarize with the phases of terminal illness, as well as the needs of the patient and family members.
To understand the role and function of spiritual companionship.
To explore different ways of accompanying.
Methodology.
The training is fundamentally experiential.
Background knowledge, including a bibliography, will be provided, but the emphasis will be on exercises and practices adapted from different spiritual cultures, as well as role playing.
First Module
Second Module
The Family and the role of family members.
Skills needed in communicating difficult situations.
The tasks of the volunteer.