Yoga with Amanda Brown
Amanda Brown offers biodynamic yoga classes at Roselidden on Tuesday mornings from 10.00 to 11.30.
The Autumn series starts on 12th September.
Further information from Amanda on 01326 318776 and on her website Ground of Being
Shiatsu Massage
Kate Burford offers Shiatsu Massage on Wednesdays in the Hayloft.
For more information, and to book places, contact Kate on 01736 350517
Email: kateburford@blue-earth.co.uk
Summer Solstice Celebration with Calm Cornwall
Calm Cornwall will be celebrating the Summer Solstice at Roselidden on Sunday 24th June with a day of Biodanza Meditation, Kirtan, Family Biodanza, Ancient Solstice Ritual, Music, Fire, Storytelling and Food.
For more information see http://www.calmcornwall.co.uk
and to book tickets go to: http://www.bookwhen.com/calmcornwall
Be Bold, Be Brave, Be Happy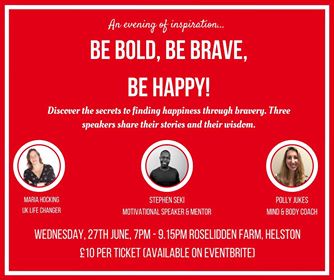 Wednesday 27 June 2018
An evening of inspiration with Maria Hocking, Stephen Seki and Polly Jukes. For more information and tickets see https://www.eventbrite.co.uk/e/be-bold-be-brave-be-happy-tickets-45973385634
Body & Nature Retreat Days with Rachel Lambert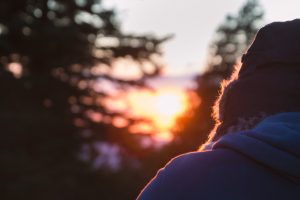 Sat 3rd Mar 2018 -10-5pm- Lungs|Breath|Environment
Sun 23rd Sept 2018 -10-5pm – Heart|Connection|Vitality
Sun 18th Nov 2018 -10-5pm- Bones|Core|Nourishment
Sat 19th Jan 2019 -10-5pm- Cells|Rest|Ease
Rachel is foraging tutor of 10 years and qualified somatic educator, since 2010. She has developed these retreat days as an opportunity to realign with the innate intelligence of your own body and the world around you, and feel restored and nourished through the autumn and winter months. The days are based on mindfulness body awareness, combined with nature awareness, and informed by the sensitive practice of somatics. Soma means to experience the body from within and is a profound way to the inner landscape of your body.
For more info or to book, see Retreats or go to; www.wildwalks-southwest.co.uk or call 01736 361454 / 07903 412014
Rachel Lambert MA, BA, IBMTdip
'Look deep into nature, then you will understand everything better' Albert Einstein
'Cherish the natural world because you're part of it and depend on it' Sir David Attenborough
Samhain Gong Puja
An all-night gong healing ceremony, led by Ali Gunning, from 9pm Saturday 3 November to 9am Sunday 4th November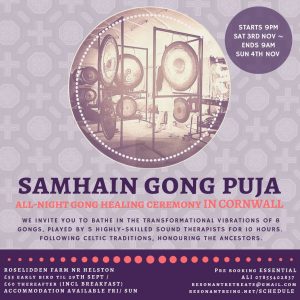 For more information see https://www.resonantbeing.net/schedule/2018/5/22/samhain-all-night-gong-puja-cornwall
Mindfulness based Stress Reduction
An eight week course, led by Vici Williams.
The 2017 course is now complete, but Vici will be back at Roselidden in Autumn 2018 starting on 15th September.
For more information see Mindfulness Cornwall
or contact Vici Williams on 07932 564241