Food at Roselidden
Peter has been a keen cook since first making eclairs at the age of eight!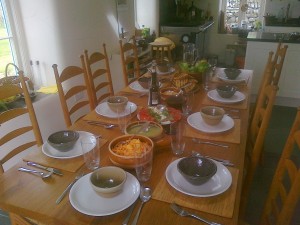 Roselidden has given him the opportunity to share his love of preparing and sharing food in a number of ways. He cooks for the retreats held at Roselidden, presenting predominantly vegetarian meals from around the world, often with vegan, gluten or dairy free courses. He also cooks for the groups who use Roselidden for their religious or cultural celebrations, serving dishes appropriate to the occasion and ethnic background. He has recently cooked Indonesian food for 65 at the recent Balinese Gamelan Concert, and delights in cooking pizza in the Wood Fired Oven for friends and family.
The Wood Fired Oven
In 2014 Peter constructed a traditional wood fired oven that could be used for cooking bread, pizza and almost anything else! Jos insisted that a walled area was to be built next to the oven, and as this faces west, it is an ideal location to gather and cook together during the summer evenings.
The oven takes about three hours to get to a temperature suitable for cooking pizzas, with the door open, after which the embers can be raked out, and the oven used for bread, meats, cakes, meringues etc as it cools.
Plans are afoot to hold occasional Oven Days, during which dough will be prepared, the fire lit and tended, pizzas will be cooked for lunch, and bread baked to take away at teatime. A few glasses of wine or beer may also be sunk during the process!
Potluck Cornwall
Peter was a founder of Potluck Cornwall, a group for those interested in cooking, eating and discussing Cornish food.
The group meets up to a dozen times a year, holding 'Chat and Nibble Nights' at new and interesting restaurants and cafes around the county, and 'Potlucks' when we each prepare and bring along a dish on a common theme to share. We also arrange talks by experts, visits to producers and food festivals, and provide information on the Cornish food scene on our website and Facebook page. Most of the hard work is now done by Taor Morris, for whom Potluck Cornwall seems to have become a way of life!
For more infomation see Potluck Cornwall