DIARY DATES FOR 2019
T'ai Chi classes with Jos are on Tuesdays at 17.30 and Thursdays at 09.15.
Yoga classes with Amanda Brown are at 10.00 to 11.30 on Tuesdays.
Shiatsu with Kate Burford takes place by appointment on most Wednesdays.
The Western Chan Fellowship meets to meditate at 19.00 on the first Monday of each month throughout the year, and also on the third Monday from March onwards.
The Mindfulness Cornwall group meets to meditate at 18.00 on the second and fourth Thursday of each month.
December
4 End of the Road Cafe 10.15 to 12.
6,7,8 Essential Practices in Spiritual Companionship. A course for those directly involved in palliative care. See below for details
14 TM with Wayne Robbins of the Meditation Trust 09.30 to 17.00
15 Musical Celebration of Christmas with Camerata Kernow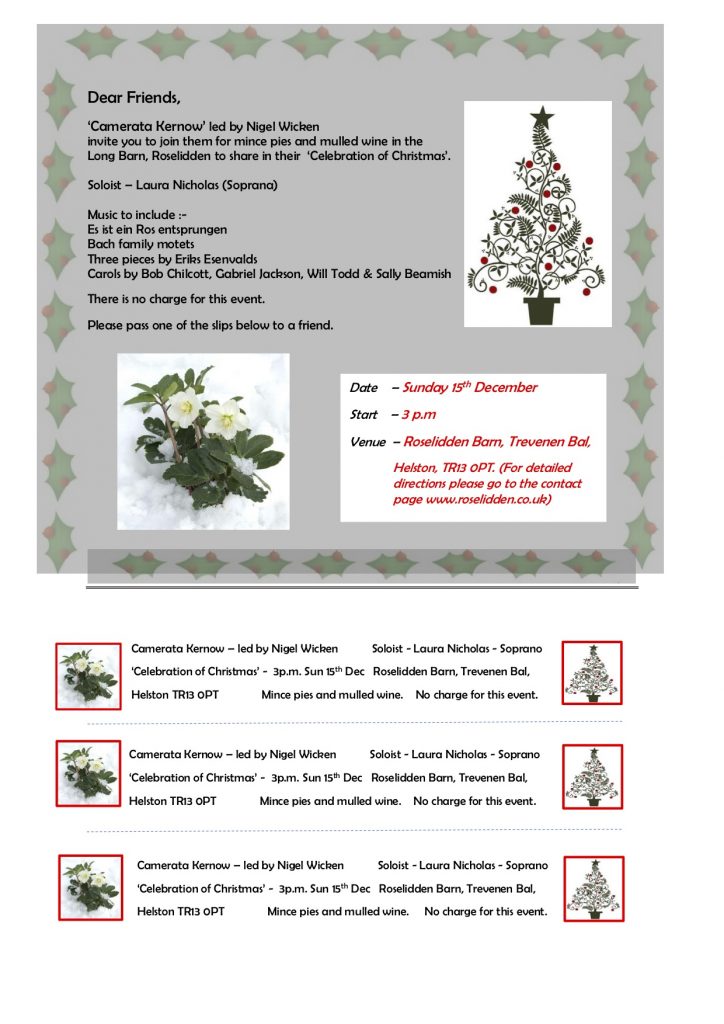 Quick Links
Jos Hadfield http://www.roselidden.co.uk/events-at-roselidden/regular-classes-2/
Amanda Brown, Ground of Being http://www.groundofbeing.co.uk
Kate Burford http://www.facebook.com/kate.burford.79
Western Chan Fellowship http://www.westernchanfellowship.org
Mindfulness Cornwall http://mindfulnesscornwall.co.uk
Anita Tempest-Keeping, The Fine Balance http://www.thefinebalance.uk
End of the Road Cafe http://www.endoftheroadcafe.co.uk
DoTerra http://www.doterra.com
Wayne Robbins, The Meditation Trust http://www.meditationtrust.com
Ali Gunning, Resonant Being http://www.resonantbeing.net
Essential Practices in Spiritual Companionship