Candlelit Concert for the Cornwall Music Therapy Trust, 17 December 2017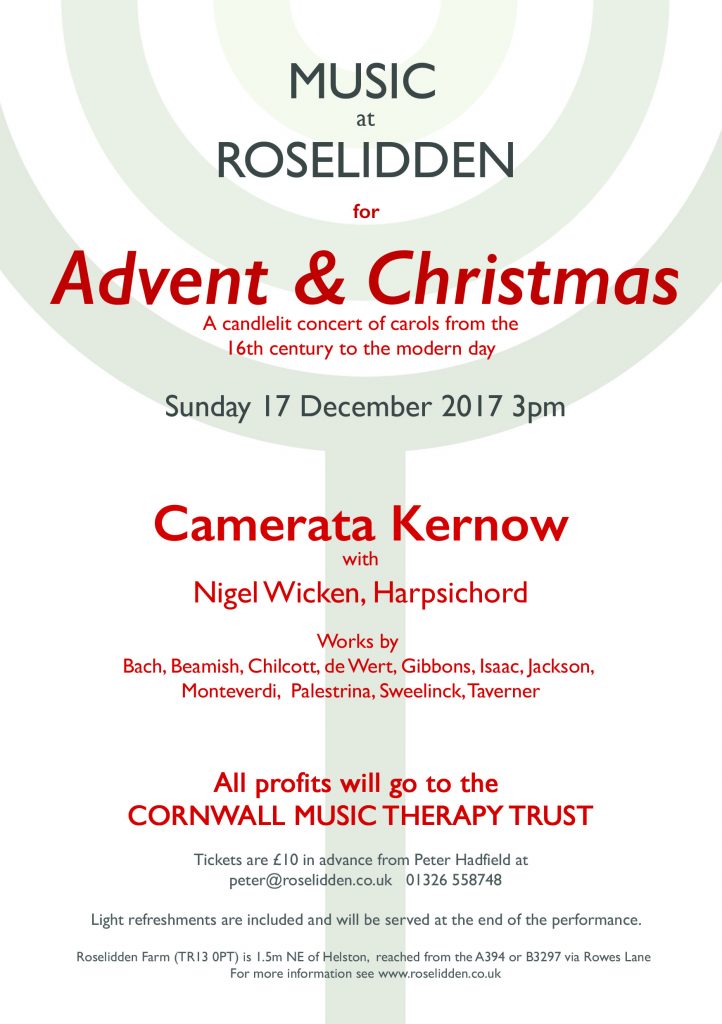 Nigel Wicken has chosen a delightfully varied and illuminating programme of music for the Christmas concert by Camerata Kernow at Roselidden on 17th December.
He is well known for finding outstanding works that are rarely performed, and this concert is no exception.
The first half showcases music by a 'dream team' of 16th century European composers including Palestrina and Monteverdi from Italy, Orlando Gibbons from England, and Heinrich Isaac, de Wert and Sweelinck from the Lowlands.
The pieces, which were composed for church services during the four week period of Advent, will transport us back in time to the baroque period.
We come bang up to the present day in the second half, with carols from a group of outstanding contemporary British composers; Gabriel Jackson, Bob Chilcott, John Tavener, Will Todd and Sally Beamish. These pieces are all about Christmas; meditations on angels, shepherds, the virgin birth, snow and candle light.
By coming to the concert you will be supporting the invaluable work of the Cornwall Music Therapy Trust. For more information on this see Cornwall Music Therapy Trust
Tickets are £10, to include light refreshments, and may be reserved in advance from Peter Hadfield on 01326 558748 or peter@roselidden.co.uk
Practical Details
Date Sunday 17 December 2017
Time 3pm
Place The Long Barn, Roselidden Farm, Trevenen Bal, Helston, Cornwall TR13 0PT
Roselidden Farm is located 1.5 north east of Helston and is reached from the A394 or B3297 via Rowe's Lane just west of Trevenen Bal
Directions
Download the attachment for directions and location.
Cost £10, to include light refreshments
Tickets reserved in advance from Peter Hadfield at peter@roselidden.co.ukor on 01326 558748, or on the door. If you could let us know your numbers in advance, it would be helpful.